Heritage Transport Museum
Located 63 kms. from Delhi.
Bilaspur – Taoru Road (Major District Road 132) Off NH 8 (Bilaspur Chowk), Taoru, Gurgaon, Haryana 122105
Phone : 011 2371 8100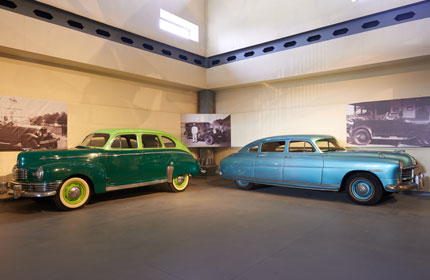 Outreach
The philosophy of the Heritage Transport Museum is that of an object-based, visitor-centered, interdisciplinary museum. Key methods and media have been identified and deployed for communication with visitors at all levels in each gallery. Through these, the museum's learning and engagement activities deliver innovative learning opportunities to a wide range of audiences and seek to provide interactive experiences that encourage multiple interpretations of the museum exhibits.
Discovery Centre
Situated on Level 2, visitors to the Discovery Centre gain knowledge about the principles and mechanisms of various modes of transportation by interacting with actual parts and models, for example an engine, a gearbox or a chassis. Exhibits have been designed to be operated primarily by visitors, with clear educational objectives, which will encourage visitors to understand real object and phenomena through hands-on physical exploration.
Library & Research Centre
Situated on Level 3, the Library & Research Centre holds over 2000 books related not only to transportation and its history, but also books on art, design and technology, street art, enamel signs, museology, and so on. There are several rare books in the collection that were printed in the early 20th century The museum plans to continually expand its collection of books, journals, and archival records, in order to enhance its diverse collection. Visitors are encouraged to spend time at the Library & Research Centre for an enriching experience.
Automobile gallery
This gallery showcases the evolution of the Indian car industry, as well as cars that have been used in India since the advent of motoring. On display are over 75 vintage and classic cars – parked alongside a recreated Indian street scene from yesteryears, sporting vintage Ephemera. A vintage petrol pump with spare parts memorabilia has also been recreated ,while a special section showcases the role of cars in Bollywood. Films on transportation are screened in a mini auditorium on this floor.
Source : heritagetransportmuseum.org
Apart from this, there are galleries of Pre-mechanised transportation, Heavy Mechanised Transportation, Railways, Aviation, Two-Wheelers, Collectible Indian Toys on Transport, Historical Collections, Contemporary Art Gallery, etc., also.
https://www.youtube.com/watch?v=u5bzxaytrbI
Reviews
Visiting hours : 10.00AM to 07.00PM Monday Closed
Entry fee : Rs. 300/- per person
Rs. 150/- for children under 12 years
Rs. 150/- for students ( with valid student ID )
Free for children under 3 years
Free for Disabled person and 1 companion