Dolls Museum
Nehru House, 4 Bahadur Shah Zafar Marg, 110002
Phone: 011-23316970-74 ( 5 lines )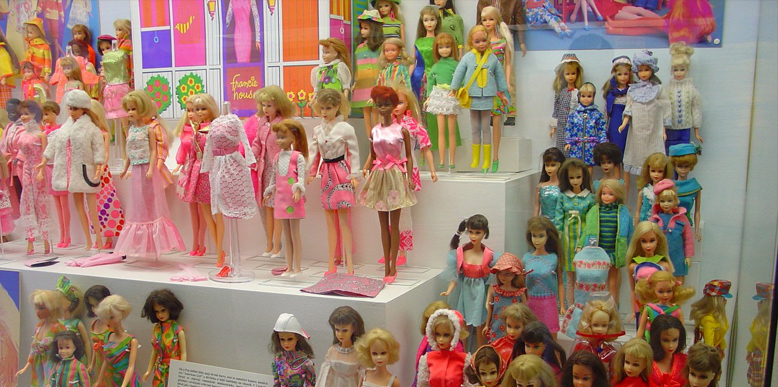 The International Dolls Museum is a large collection of dolls in Delhi, India. It was set up by K.Shankar Pillai, a political cartoonist. Housed in the Children's Book Trust building on Bahadur Shah Zafar Marg, accessed through a separate entrance, a winding staircase, leading up to a foyer. The museum has a floor area of 5,184.5 sq ft (481.66 m2) and occupies a portion of the first floor.
The collections of dolls are classified into two parts. One part consists of the dolls collected from European countries such as UK, USA, Australia, New Zealand, Commonwealth of Independent States and the other section consists of dolls collected from other Asian countries, Middle East, Africa and India.
The main collections of Dolls Museum are of 150 types of Indian costume dolls created at the own workshop of the museum which is located inside the museum. The craftsmen create the dolls with utmost perfection to create a symphony of the physical features, costumes and ornaments. In the pageant are characters from India's unique classical dance, Kathakali, with its lavish costumes. Other dolls of special interest are Boys and Girls Festival dolls from Japan, replica Dolls of the Queen's collection (UK), Maypole Dance from Hungary, Kabuki and Samurai dolls from Japan, Flamenco dancers from Spain, Women's Orchestra from Thailand, and Kandy Pehara from Sri Lanka.
Besides, dolls representing various countries, there is also a special display of a representative collection of over 150 dolls in Indian costume dolls. There are dolls showing various Indian dances and cultures, regional costumes, pairs of bride and grooms of various states, a group of dolls showing how to wear a saree. These were made at the Dolls Workshop attached to the Museum. Indian dolls made at the workshop are exchanged for gifts received from abroad as well as sold to collectors and museums in India and abroad. Each doll is handcrafted after meticulous research into the physical attributes, dress and jewellery of individual characters. The museum also runs a "clinic" for "sick" dolls, where rare deteriorating dolls are restored.
Source : Wikipedia
https://www.youtube.com/watch?v=L1zUdPihh7Q
Reviews
Timing : 10am to 5.30pm ( Monday Closed )
Entry fee : Adult : Rs 15/- and Children : Rs. 5/-.