Connaught Place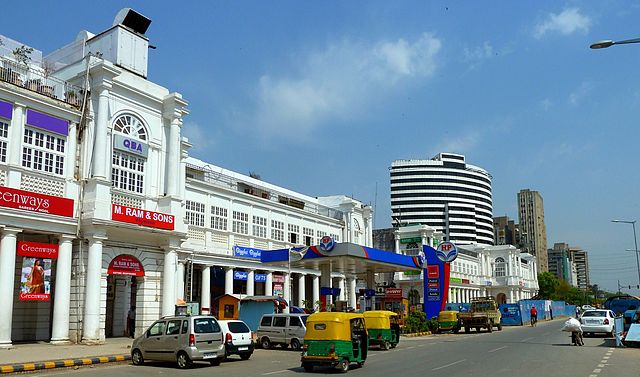 Connaught Place ,(officially Rajiv Chowk) is one of the largest financial, commercial and business centres in New Delhi, India. It is often abbreviated to CP and houses the headquarters of several noted Indian firms. The former location of the headquarters of the British Raj, the area's environs occupy a place of pride in the city and are counted among the top heritage structures in New Delhi. It was developed as a showpiece of Lutyens with a prominent Central Business District.
Named after H.R.H Field Marshal The 1st Duke of Connaught abd Strathearn, construction work began in 1929 and was completed in 1933. The Inner Circle of Connaught Place was renamed Rajiv Chowk (after Rajiv Gandhi) while the Outer Circle became Indira Chowk under Union Home Minister S.B. Chavan. Today it is the fourth most expensive office destination in the world, according to global property consultant CBRE Group, and the fifth highest priced market in the world according to the 2013 Forbes list.
The area is instantly recognisable on any map of Delhi as a big circle in the middle with radial roads spreading out in all directions. Eight separate roads lead out from Connaught Places's inner circle, named Parliament Street and Radial Roads 1 through 7. Twelve different roads lead out from Connaught Circus, the outer ring. The best known of these is Janpath, the continuation of Radial Road 1. It is a logically planned area and houses one of India's first underground markets, the Palika Bazaar (Municipal Market), named after nagarpalika. The Outer Circle is known as the Connaught Circus (officially Indira Chowk),having rows of restaurants, shops and hotels. The Middle Circle has offices, Banks, Exchange houses such as Thomascook, Atwexchange ,PVR cinema and eating outlets.
Connaught Place's central park has long been a venue for cultural events. In 2005–06, it was rebuilt after the construction of the Delhi Metro station below it. That station, Rajiv Chowk, is the interchange for the Yellow and Blue lines of the Metro and one of the largest and busiest stations in the network. Connaught Place hosts various cultural events in the central park area.
Source : Wikipedia
http://www.youtube.com/watch?v=UZ_OFYQ8bn8
Reviews