Akshardham Temple
Noida Mor, New Delhi, Delhi 110092
Phone : 011 434402344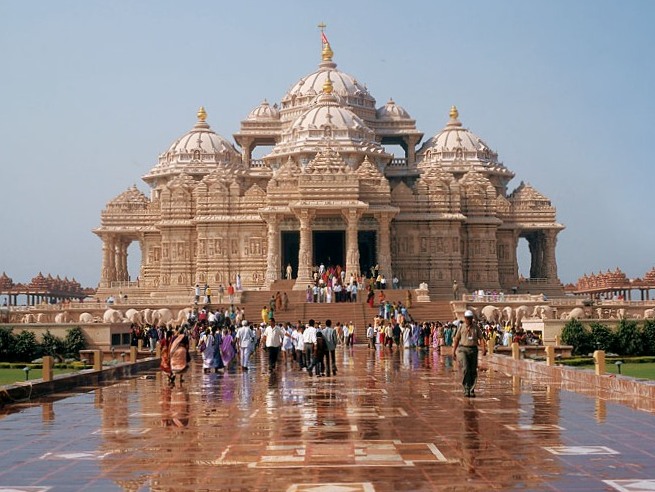 Akshardham or Swaminarayan Akshardham complex is a Hindu mandir, and a spiritual-cultural campus in New Delhi, India. Also referred to as Delhi Akshardhamor Swaminarayan Akshardham, the complex displays millennia of traditional Hindu and Indian culture, spirituality, and architecture. It is the largest Hindu temple after the Akshardham in Gandhinagar both inspired and developed by Pramukh Swami Maharaj, the spiritual head of the Bochasawasi Shri Ashakar Purushottam Swaminarayan Sanstha, whose 3,000 volunteers helped 7,000 artisans construct the temple.
The temple, which attracts approximately 70 percent of all tourists who visit Delhi, was officially opened on 6 November 2005 by Dr. A.P.J.Abdul Kalam. It sits near the banks of the Yamuna adjacent to the 2010 Commonwealth Games village in eastern New Delhi. The temple, at the center of the complex, was built according to theVasti shatra and Pancharatra shastra .
The complex features an Abhisheka Mandap, Sahaj Anand water show, a thematic garden and three exhibitions namely Sahajanand Darshan (Hall of Values), Neelkanth Darshan (an IMAX film on the early life of Swaminarayan as the teenage yogi, Neelkanth), and Sanskruti Darshan (cultural boat ride). According to Swaminarayan Hinduism, the word Akshardham means the abode of God and believed by followers as a temporal home of God on earth.
The main attraction of the Swaminarayan Akshardham complex is the Akshardham Mandir. It rises 141-foot (43 m) high, spans 316-foot (96 m) wide, and extends 356-foot (109 m) long. It is intricately carved with flora, fauna, dancers, musicians, and deities.
It is entirely constructed from Rajasthani pink sandstone and Italian Carrara marble. Based on traditional Hindu architectural guidelines (Shilpa shastras) on maximum temple life span, it makes no use of ferrous metal. Thus, it has no support from steel or concrete.
The mandir also consists of 234 ornately carved pillars, nine domes, and 20,000 murtis of sadhus, devotees, and acharyas. The mandir also features the Gajendra Pith at its base, a plinth paying tribute to the elephant for its importance in Hindu culture and India's history. It contains 148 life sized elephants in total weighing a total of 3000 tons.
Under the temple's central dome lies the 11-foot (3.4m) high murti of Swaminarayan seated in abhayamudra to whom the temple is dedicated. Swaminarayan is surrounded by images of the faith's lineage of Gurus depicted either in a devotional posture or in a posture of service. Each murti is made of paanch dhaatu or five metals in accordance to Hindu tradition. The temple also houses the murtis of Sita Ram, Radha Krishna, Shiv Parvati, and Laksmi Narayan.
Exhibits
Sahajanand Darshan [Hall of Values] The Hall of Values features lifelike robotics and dioramas which display incidents from Swaminarayan's life, portraying his message about the importance of peace, harmony, humility, service to others and devotion to God. Set in 18th century India, the audience experiences eternal messages gleaned from ancient Hindu culture such as non-violence, vegetarianism, perseverance, prayers, morality, and family harmony through 15 3-D dioramas which make use of state of the art robotics, fibre optics, light and sound effects, dialogues, and music. The hall also features the world's smallest animatronic  robot in the form of Ghanshyam Maharaj, the child form of Swaminarayan
Nilkanth Darshan [Theatre]
The theatre houses Delhi's first and only large format screen, measuring 85-foot (26 m) by 65-foot (20 m). The theatre shows a 40-minute film specially commissioned for the complex, Neelkanth Yatra, to recount a seven-year pilgrimage made by Swaminarayan made during his teenage years throughout India.  A 27-foot (8.2 m) tall bronze murti of Neelkanth Varni is located outside the theatre.
Sanskruti Vihar [Boat Ride]
The Boat Ride is a 15-minute journey through 10,000 years of India's glorious heritage, using life size figures and robotics to depict life in Vedic India, from family life to bazaars and teaching. It also shows the contributions of Vedic Indians to various fields such as science, astronomy, arts, literature, yoga, mathematics, etc. by eminent persons.
Musical fountain
Known as the Yagnapurush Kund, it is India's largest step well. It features a very large series of steps down to a traditional Yagna kund. During the day, these steps provide rest for the visitors to the complex and at night, a musical fountain show representing the circle of life is played to an audience which is seated on the same steps.  The fountain measures 300 feet (91 m) by 300 feet (91 m) with 2,870 steps and 108 small shrines. In its center lies an eight-petaled lotus shaped yagna kund designed according to the Jayaakhya Samhita of the Panchratra shastra
Source : Wikipedia.
Reviews
Location : Banks of River Yamuna in East Delhi
Visiting Hours : 9.00 AM to 6.30 PM (Tuesday – Sunday). Closed on Monday.
Time required : Minimum 3 – 4 Hours.
Enjoy : A 15 Minute Boating experience showcasing world's oldest Vedic Village and Bazaar.
Don't miss : The Premati Ahargruh or the Premvati Food Court, a vegetarian restaurant modeled on the Ajanta and Ellora Caves in Maharashtra, and an Ayurvedic bazaar. The restaurant caters a verity of traditional dishes.
Other Attractions : Bharat Upvan ( Gardens ). Lotus Shaped Garden.
Inside tip: Visit the Temple at evenings as it comes alive due to the magnificent Lighting Effects.
Entry Fee : Adults Rs. 170/- , Children 4-12 years Rs.100/- ( Children below 4 years free), Senior Citizen Rs. 125/-, Cameras, video cameras, mobile phones or any electronic items are not allowed inside the complex.
Musical Fountain Entry Fee : Adults Rs. 30/-,  Child 4-11 years Rs. 20/- ,  Child Below 4 years Free.