Tibetans Refuge Centre
27, West Lebong Cart road, Darjeeling, West Bengal – 734101
Phone : +97 354 2255938,2252552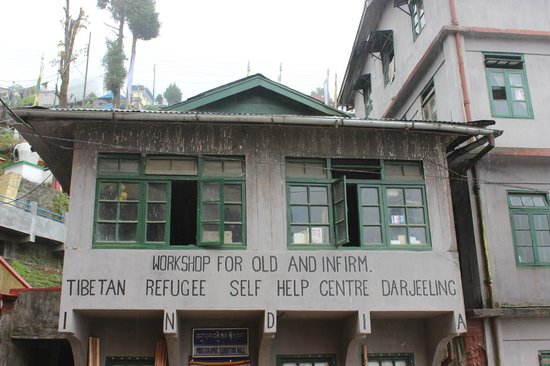 Tibetan Refugee Self Help Centre in Darjeeling, India is a rehabilitation Centre for the Tibetan refugees in the Darjeeling Himalayan hill region. It was established on 1 October 1959, after they followed Dalai Lama and escaped from Tibet.The production of Tibetan handicraft is the centre's main activity.
Tibetan Refugee Self Help Centre Situated at Lebong and locally known as Hermitage. The place initially provided emergency relief to Tibetan refugees who had come through a hazardous trek over the Himalayas into India. The Hill-side had a special significance for Tibetans, because of the fact that Thirteenth Dalai Lama had spent his exile in India from 1910 to 1912 following the Chinese invasion of Tibet at that time.
The center was registered as charitable organization under the act of Government of India. Starting off with just four workers, today the center is the home for 130 Tibetan family. The center has been a part of multifarious activities which ranges from handicrafts, training of artisans, and craftsmen. These activities are primarily to the care of the sick, elders and needy destitute. The Center now comprises one crèche, one nursery school along with a pre-primary school (up to +2 standard).
Source : Wikipedia
TRADITIONAL HANDICRAFTS
The production of handicrafts continues to be the mainstay both in terms of activity as well as its source of income.
To date, the Centre has been exporting to 36 countries all over the world.
Some of the traditional items are
Tibetan carpets, thankas, wood carved items like folding tables, frames, wall hangings, metal items like bronze and copper pots, prayer wheels and leather items such as gents and ladies boots and shoes.
https://www.youtube.com/watch?v=VPAs_3gkTTA
Reviews
Visiting hours : 09.00AM to 07.30PM all days of the week
Entry fee : Free