Mirik
49 km (30 mi) south-southwest of Darjeeling town.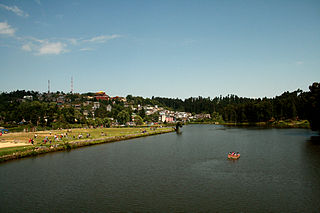 Mirik is a picturesque tourist spot nestled in the serene hills of Darjeeling district in West Bengal in India . The name Mirik comes from the Lepcha words Mir-Yokmeaning "place burnt by fire".
This is a popular tourist destination for its climate, natural beauty and easy accessibility. The centre of all attraction is the Sumendu lake, surrounded by a garden on one side and pine trees on the other and linked together by an arching 80 ft ( 24m) footbridge called Indreni Pull (Rainbow Bridge). A 3.5-km-long road encircles the lake and is used for walks with the view of Kanchenjunga on the far horizon. Boating on the quaint shikaras and pony riding are available.
A panoramic view of the tea gardens can been seen from the Tingling View point nearby.
This place is famous for its high-quality oranges. These are grown in Mirik Busty, Murmah and Soureni Busty.
Scenic views of the sun rising in the east and its reflection on Kanchenjunga  in the north from the Sunrise point. The plains of North Bengal can also be seen from here.
At an average elevation of 1,495 m (4,905 ft), the highest point is the Boker Monastery at about 1,768 m (5,801 ft). Mirik lake at about 1,494 m (4,902 ft) is the lowest point. Mirik is 52 km (32 mi) northwest of Siliguri city and 49 km (30 mi) south-southwest of Darjeeling town.
The climate is pleasant almost all the year round with temperatures of a maximum of 30 °C in summer and a minimum of 1 °C in winter.
Source : Wikipedia
The road trip from Darjeeling to Mirik is an awesome experience. Every turn is beautiful & mesmerizing. Pashupati Nath Market in the Nepal area located 12 kms. from here is full of imported electronic gadgets, jackets and clothes.
https://www.youtube.com/watch?v=R-qh3HJmCgg
Reviews