Ghoom Monastry
Hill Cart Rd, Ghoom, Darjeeling, West Bengal 734102
Ghoom Monastry can be visited on the way back from Tiger Hill after viewing the sunrise.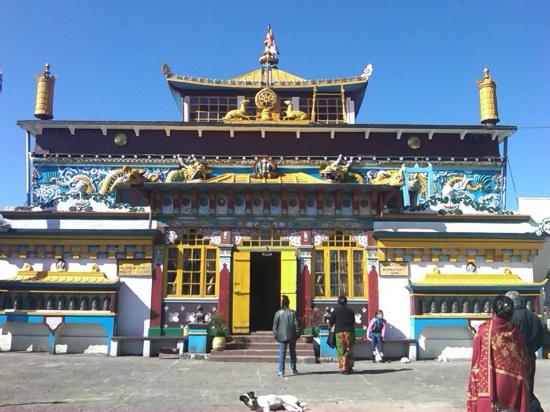 Ghum Monastery or Ghoom Monastery is the popular name of Yiga Choeling Monastery located at Ghum at an elevation of 8,000 feet, 8 km from Darjeeling.
The Ghoom monastery follows the Gelug school of Tibetan Buddhism. There is a 15-feet high statue of "Maitreya Buddha" (Coming Buddha) in the monastery. It contains images of Buddha's disciples, Chenrezi and Chongapa.
It was built in 1875 by Lama Sherab Gyatso and is the largest of the three monasteries in Ghum.
Amongst the Buddhist texts available are the Kangyur, the Tibetan Buddhist canon, running into 108 volumes. The monks fly prayer flags in the Tibetan tradition.
Source : Wikipedia
Built in 1875 by Lama Sherab Gyatso, this ancient monastery is said to have been blessed by the renowned Tomo Geshe Rimpoche of Tibet. The specialty of Ghoom monastery is that it contains the statue of the 'Future Coming Buddha' known as Maitreye Buddha. The Monastery has also preserved some of the rare handwritten Buddhist manuscripts. You could visit the monastery on your return journey to Darjeeling from Tiger Hill.
Source : http://darjeeling.gov.in/
It is advisable for the guest to visit this area either early morning or late evening to get a glimpse of the beauty of the Himalaya and the rising or setting sun. At Ghoom one can spend more than a day. The Monastery, The highest Railway Station of Darjeeling Himalayan Railway, The War Memorial, Batasia Loop and the scenic beauty is worth enjoying.
Reviews
Visiting hours : 12.00AM to 12.00PM, all days of the week
Entry fee : Free