Darjeeling Ropeway
Singamari, Darjeeling, West Bengal 734104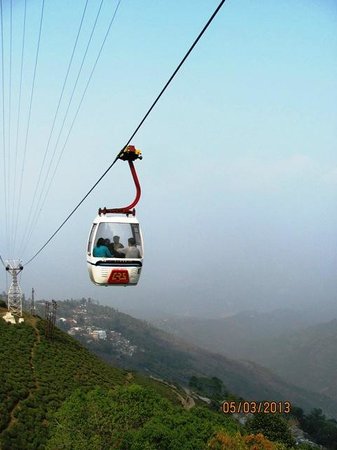 The Darjeeling Ropeway is a ropeway in the town of Darjeeling in the Indian state of West Bengal. The ropeway used to be a popular tourist destination in the town. It consisted of sixteen cars and plied between the "North Point" in the town of Darjeeling and Singla on the banks of the Ramman river. The journey on the ropeway offered beautiful views of the hills and the valleys around Darjeeling.
The ropeway was started in 1968 by the forest development department and comprised only a single From an elevation of 2,134 m (7,001 ft) in Darjeeling's North Point (Singamari), this bicable ropeway descended to 244 m (801 ft) at Singla on the banks of the Ramman river, which with Little Rangeet, meets the Great Rangeet. Stopping at Tukver, Burnesbeg and Singla tea estates, it took 45 minutes to reach Singla Bazar, 8 km away. The ropeway passed over dense forests, mountain ridges, water falls, flowing rivers, green valleys and tea gardens.
The Great Rangeet flows from the glacial elevation of Kabru, in the lower regions of the Kanchenjunga, meeting first the Ramman and then the Little Rangeet further down. Singla offers is a view of the valleys of these two streams. The Little Rangeet flows across the lush green Bijanbari valley. While the Little Rangeet is overflowing with trout, the valley has wildlife, flowers and butterflies.
The passenger ropeway was operated as a joint venture of the West Bengal Forest Development Corporation and the Conveyor and Ropeway Services Private Ltd. It had been revamped in 1988.
Source : Wikipedia
Reviews
Visiting hours : During winter and monsoon 10.00AM to 04.00PM and during Summer and autumn 10.00AM to 02.00PM
Entry Fee : Rs.150/- Per person and Rs.75/- for children between 3-8 years