Batasia Loop
West Point, Darjeeling, West Bengal 734102
This is 5 kms. From Darjeeling.
Batasia Loop can be visited while taking Toy Train Joy ride from Darjeeling.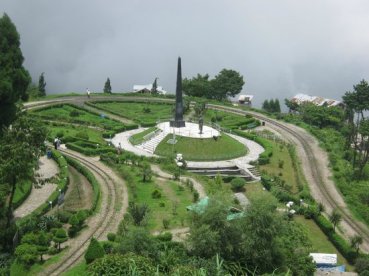 The Batasia Loop is a spiral railway  created to lower the gradient of ascent of the Darjeeling Himalayan Railway in Darjeeling.. At this point, the track spirals around over itself through a tunnel and over a hilltop. It was commissioned in 1919.
It is 5 km from Darjeeling, below Ghum. There is also a memorial to the Gorkha soldiers of the Indian Army who sacrificed their lives after the Indian Independence in 1947.
Source : Wikipedia
Batasia Loop is a name given to an interesting train-track loop where Darjeeling's Toy Train takes a unique and distinct turn. The Loop that has been excellently attracting tourist's attention is an engineering splendour where the Toy Train corkscrews around through a tunnel. Just before the train reaches this loop, it covers an unquestionable height of 1,000 ft within a few seconds.
https://www.youtube.com/watch?v=cdPeD83RKII
Reviews