Ava Art Gallery
Hill Cart Rd, Limbugaon, Darjeeling, West Bengal 734102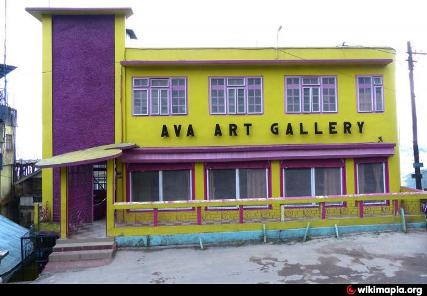 Ava Art Gallery
Situated about 4 km from the Market Square and on the National Highway, Ava Art Gallery was established in 1965 by the Late. Bhopal Rao Sett and Ava Devi. It is the only Art Gallery of its kind in the Hills. A collection of 60 pieces of art work in water, oil and thread paintings are displayed in the Gallery. Visitors can travel on foot to get to the Gallery or simply hire a taxi. Entrance fees are not charged.
Source : darjeeling.gov.in
You simply cannot miss this flamboyant purple and yellow colored monument as you cruise along the Hill Cart Road to Darjeeling. The Ava Art Gallery is an important center of art and culture and a must visit for all serious art lovers.
There is a permanent collection of sixty pieces of exquisite artwork of Ava Devi including water, oil and thread paintings. The paintings " Still strong" and "Torture" shows Ava Devi's outstanding talent and skill in the field of artwork. There are some delicate hand made embroidery and Silk appliqué as well. Photography is not permitted inside.
Reviews
Visiting hours : 08.00AM to 12.00PM and from 01.00PM to 05.00PM
Entry fee : Free