Pinjore Gardens
Kalka Shimla Rd, Pinjaur, Panchkula, Haryana 134102
Phone : 01733 231 877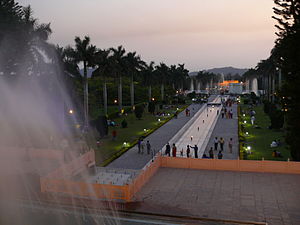 Pinjore Gardens (also known as  Yadavindra Gardens) is located in Pinjore, Panchkula district  in the Indian  state of Haryana. It is an example of the Mughal Gardens style, and was built by Patiala Dynasty Rulers.
The Pinjore garden is 22 km from Chandigarh on the Ambala-Shimla road. It was created in the 17th century by architect Nawab Fidai Khan during the early reign of his foster brother Aurangzeb (1658-1707). In recent times, it has been renamed as 'Yadavindra Garden' in the memory of Maharaja Yadavindra Singh former of the princely state of Patiala.
The Pinjore garden has been laid in seven terraces, with the main gate of the garden opening into the highest first terrace, which has a palace built in Rajasthani–Mughal style. It is called the "Shish Mahal" (palace of glass), which is adjoined by a romantic "Hawa Mahal " (airy Palace). The second terrace with arched doorways has the "Rang Mahal " (painted palace). The third terrace has cypress trees and flowerbeds leading to dense groves of fruit trees. The next terrace has the "Jal Mahal " (palace of water) with a square fountain bed and a platform to relax. Fountains and tree groves are provided in the next terrace. The lowermost terrace has an open-air theatre, which is designed as a disc-like structure. A zoo adjoins the Pinjore gardens. The whole complex has been beautifully illuminated. A heritage train has been introduced to visit all the monuments and the gardens in the complex. Special festivals such as the Baisakhi (spring) festival in April and the Mango festival in June and July are major attractions at the gardens.
Source : wikipedia
https://www.youtube.com/watch?v=Uno4Q-8fYbo
Reviews
Visiting hours : 07.00AM to 10.00PM all days of the week
Entry fee : Rs.20/- per person