Capitol Complex
Sector 1, Chandigarh, 160001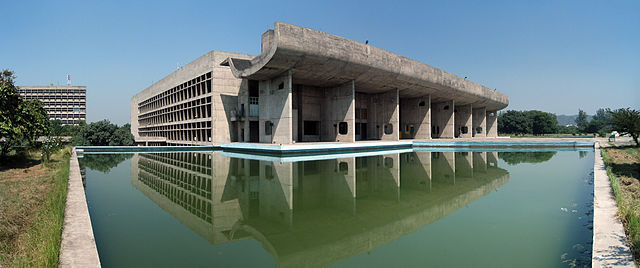 This is a World Heritage Site.
The Capitol complex comprising three buildings – Legislative Assembly, Secretariat and High Court, located in Chandigarh, India,  is designed by noted architect Le Corbusier.  After the partition of Punjab, in 1947 following the independence of India, the divided Punjab required a new capital as Lahore was now in Pakistan. Thus Le Corbusier was commissioned by first prime minister of India, Jawaharlal Nehru to build a new city of Chandigarh. The brief for the design was a city "unfettered by the traditions of the past, a symbol of the nation's faith in the future". Subsequently Corbusier and his team built not just large assembly, and high court building, but all major buildings in the city, and down to door handles in public offices.
Source : Wikipedia
The Capitol Complex is Le Corbusier's most spectacular work. The magnificent edifices, set against the Shivalik peaks, stand "as massive concrete sculptures, representing the monumental character authority that the complex represents. It is the seat of the government of the States of Punjab and Haryana. It comprises three epoch-making master-pieces: the Secretariat, the High Court and the Legislative Assembly. Separated by large piazzas, the subtle and most evocative grouping of these buildings is of breath-taking beauty.
And in the centre stands the giant metallic sculpture of The Open Hand, the official emblem of Chandigarh, signifying the city's credo of 'open to give' open to receive'.
THE HIGH COURT
The law-interpreting monument was built in the Capitol Complex during 1951-57. This structure has a double roof, projecting over the office block like a parasol or an inverted umbrella. The magnificent outward sweep of the upper roof is symbolic of protection and justice to the people. The three vertical piers, rising 60 feet from the floor and painted in bright colours form the grand entrance to the building. A gigantic egg-crate screen covers the building façade. On the rear walls of the court rooms, hand the giant woolen tapestries designed by Le Corbusier.
THE SECRETARIAT
The law-executing monument is the largest and tallest of the three edifices in the Capitol Complex. Built during 1953-59, it is shaped like an eight-storeyed concrete slab, with its distinctive brise-soleil-louvered screen of deeply sculptured two-storey porticos in the centre, housing the offices of ministers. The cafeteria rests stop the terrace is like an art object, giving a spectacular view of the city.
THE LEGISLATIVE ASSEMBLY
The profile of this law-forming monument epitomizes stately grandeur. Square in plan, with a monumental portico standing free from the main building, it faces the High Court. The shape of the cupola is an obliquely truncated hyperbolic parabolic, extending well above the roof line. A pyramid covers the upper chamber of the erstwhile bicameral system and offers an exciting counterpoint to the cupola, lending artistic grace to the entire complex.
Source : chandigarhtourism.gov.in
Reviews
Visiting hours : 09.00AM to 05.00PM all days of the week
For permission to visit capitol complex,