Durgiana Temple
Hati Gate, Goal Bagh, Amritsar, Punjab 143001
Phone :: 0183 255 0800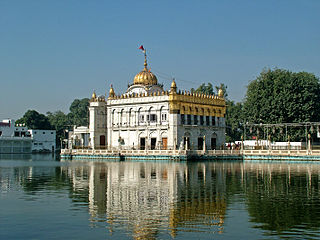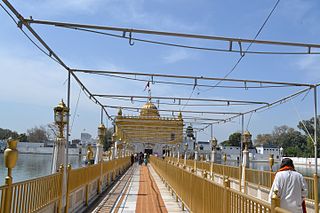 The Durgiana Temple, also known by other names of Lakshmi Narayan Temple, Durga Tirath and Sitla Mandir, is a premier Hindu temple of Punjab (India) situated in the city of Amritsar. Though a Hindu temple, its architecture is similar to the Golden Temple of Sikh religion. This temple derives its name from the Goddess Durga, the chief Goddess deified and worshipped here. Idols of Goddess Laksmi (goddess of wealth) and Vishnu (the protector of the world) are also deified here and worshipped.
The temple is situated near the Lohgarh gate, in Amritsar, at the site of a small lake known as Durgiana. It is very close to the Amritsar Railway station, and is about 1.5 kilometres (0.93 mi) from the bus station.
The original temple is reported to have been built in the 16th century.It was rebuilt in 1921 by Guru Harsai Mal Kapoor in the architectural style of the Sikh Golden Temple.The newly built temple was inaugurated by Pandit Madan Mohan Malaviya.
Even though Amritsar is not declared a Holy city, restrictions are in force prohibiting sale of tobacco, liquor and meat within a radius of 200 metres (660 ft) around this temple and the Golden Temple.
The temple is built in the middle of a sacred lake, which measures 160 metres (520 ft) x 130 metres (430 ft). A bridge provides the approach to the temple. The dome of the temple is gilded. Marble is used extensively in the temple's features. The dome is illuminated with colourful lights. The temple is sometimes called Silver temple because of its large exquisitely designed silver doors. It has a rich collection of Hindu scriptures. The temple complex also has some historic subsidiary temples such as Sita Mata and Bara Hanuman.
Source : Wikipedia
https://www.youtube.com/watch?v=JqBP1P2VRFU
Reviews
Visiting hours : Open 24 hours.
Entry fee : Free