Wong Tai Sin
2 Chuk Yuen Village, Wong Tai Sin, Kowloon
Phone : +852 2327 8141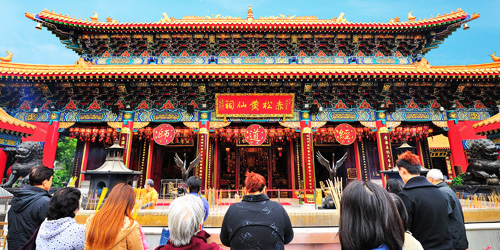 The Sik Sik Yuen Wong Tai Sin Temple's claim to 'make every wish come true upon request' might have something to do with its popularity. Home to three religions (Taoism, Buddhism and Confucianism), its natural setting and beautifully ornamented buildings make it as much a scenic attraction as an important religious centre.
The temple commemorates the famous monk of yore, Wong Tai Sin (also known as Huang Chu-ping), who was born in the Fourth century and became a deity at Heng Shan (Red Pine Hill). In 1915, Taoist priest Liang Ren-an carried a sacred portrait of Wong Tai Sin from Guangdong in southern China to Hong Kong. Now housing this precious portrait, this Temple is where worshipers pray for good fortune through offerings, divine guidance and fortune telling.
Feng shui enthusiasts may notice structures representing the five geom antic elements: the Bronze Pavilion (metal); the Archives Hall (wood); the Yuk Yik Fountain (water); the Yue Heung Shrine (fire), where the Buddha of the Lighting Lamp is worshiped; and the Earth Wall (earth). Other areas of the complex include the Three Saints Hall, the Confucian Hall and the extravagantly colourful Good Wish Garden that is lavishly decorated with chinoiserie.
Source: discoverhongkong.com
There is a Nine-Dragon Wall modelled after one in Beijing. The Three-Saint Hall  is dedicated to Lü Dongbin, Guan Yin, and Lord Guan. Containing a portrait of Confucius, the Taoist temple has a collection of Confucian, Taoist, and Buddhist literature.
The architecture is the traditional Chinese temple style with grand red pillars, a golden roof adorned with blue friezes, yellow latticework, and multi-coloured carvings. Aside from the Daxiong-baodian or Grand Hall, Sansheng Hall and the Good Wish Garden are also worth seeing. The temple grounds also feature three memorial archways. The first one stands outside the temple and is carved with the name of the temple. If you walk past the soothsayers and the fortune-telling stalls, you can see another memorial archway. And if you continue further along the third memorial archway standing before you.
Source : wikipedia
https://www.youtube.com/watch?v=qXwVtI4TwiU
Reviews
Opening hours : 07.00Am to 05.30PM
Getting there : MTR Wong Tai Sin Station, Exit B 2, walk for about 3 minutes