Wan Chai 
258 Queen's Rd E, Hong Kong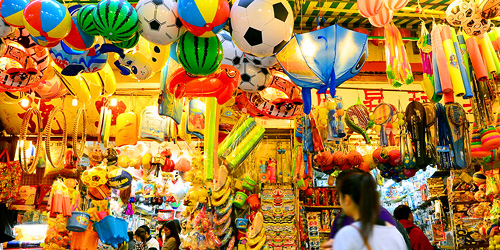 Made internationally famous by the 1960 film The World of Suzie Wong, historic Wan Chai is not just Hong Kong's party district; by day it's a pleasant neighbourhood for wandering and shopping.
Dotted along Queen's Road East are a number of excellent rattan and Chinese furniture shops that will happily arrange to have your purchases sent home for you or, for competitively priced clothing, try Spring Garden Lane where stalls offload garments originally earmarked for export. Techies won't complain about getting lost in the Wanchai Computer Centre on Hennessy Road; a building jam-packed with hardware, software, accessories and other gadgets. And both kids and 'kidults' might want to check out Tai Yuen Street; an entire strip of toys touting everything from the latest to the classics.
Nostalgia alert! For those born before 1980s, a walk down Tai Yuen street is liable to bring on rushes of happy childhood memories. Some of the classic toys that were once made in Hong Kong and placed under Christmas trees around the world have survived here, nestled like treasures among the latest 'thingamajigs' that today's kids go wild over.
Most toy manufacturing left Hong Kong for Mainland China I n the 1980s, but the locals' passion for kiddie collectables hasn't died on this street, where everything from semi-precious limited edition figurines to the humble bottle of bubbles are available. This is also a great place to pick up festive decorations.
Source: discoverhongkong.com
Wan Chai offers historical conservation sites including Old Wan Chai Post Office, Hung Shing Temple and Pak Tai Temple. Many of the medium-sized shopping centres are named in numerals, such as Oriental 188, 328, and 298 Computer Centre. Theses numbers might have come from the earlier days when all prostitution houses were numbered, as they were referred to as "big numbers" (大冧巴, dai lum bah).
There are many commercial complexes and office skyscrapers in Wan Chai. The HK$4.4 billion 78-storey skyscraper Central Plaza currently stands as the third tallest building in Hong Kong. The apex of Central Plaza is designed as a unique neon tower clock. It consists of four neon spandrel bands; at every 15 minutes, the colour changes from top to bottom to represent different times of the day. More than an innovative clock, "Lightime" has become a new symbol in the same way as the Eiffel Tower reminds people of Paris. Small but free art exhibitions used to be held on the second floor all-year round, whereas the first floor connects Wan Chai's footbridge network: the Hong Kong Exhibition and Convention Centre at the network's extreme north, Wan Chai Pier, China Building, Harbour Centre, Central Plaza, Immigration Department Tower, Wan Chai Court, Wan Chai MTR Station and Johnston Road (the tram line) at the network's extreme south.
More recent tourist attractions include the Golden Bauhinia Square, the site of a daily flag-rising ceremony. This ceremony is enhanced on 1 July (handover anniversary) and 1 October (National Day of China).
A 3-storey pergola exhibition is built opposite to Li Chit Garden. Tai Fat Hau footbridge also holds an art display of the fingerprints of 30,000 citizens slated for the Guinness Book of World Records.[20] The sticker pictures on 50 poles of the bridge have been colloquially called the "50 landscapes of Wan Chai" (灣仔五十景).
Source : wikipedia
https://www.youtube.com/watch?v=W7EUhq-JQl8
Reviews
Opening hours : 10.00AM to 07.00PM
Getting there : Take the MTR to Wan Chai station. Look for Exit A3 on Johnston Street. Facing south, cross the road and you'll reach Tai Yuen Street, perpendicular to Johnston. Just follow the street down the row of green tin stalls.