Temple Street Night Market
Temple street, Yau Ma Tel, Kowloon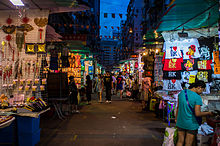 Temple Street  is a street located in the areas of Jordan and Yau Ma Tei in Kowloon, Hong Kong. It is known for its night market and as one of the busiest flea markets at night in the territory. The night market lies in the Yau Ma Tei, Jordan part of the street. Popular with tourists and locals alike in the evening, it is also common to see the place crowded at dusk. It sells cheap merchandise and food items.
The Temple Street Night Market is sometimes known as Men's Street as it is popular for men's fashion. The market starts at 2 p.m., but is lively at dusk daily. Traffic is closed on the street at that time as visitors swarm into the street. There are more than a hundred stalls with colourful lights in the market. There are carts bulging with goods from clothing to mobile phones and watches. Stalls have items mainly for men, jeans, t-shirts, , lighters, shoes,  and men's accessories. Low-priced merchandise is common in the night market. Cheap second hand goods such as cassettes, video tapes, old newspapers, antiques are also sold there. Like in other night markets in South East Asia, prices can always be negotiated by bargaining.
When buying merchandise in Temple Street, it is advised that one hunt for shops hidden in the streets behind the stalls. This is one of the unique characteristics of Temple Street Night Market.
Tourists can do shopping and enjoy a Cantonese opera show.
The night market is famous for its snacks and roadside dining, which serves local street cuisine. It sells a wide range of delicious local delicacies.
There are also lots of restaurants selling seafood. These rice hot pots can be perfect for an intimate dinner. They are delicious as well as affordable. All of these culinary delicacies represent Hong Kong's traditional and unique food culture.
Source : Wikipedia
https://www.youtube.com/watch?v=RvyDCekP3Mw
Reviews
Getting there : MTR Yau Ma Tei Station, Exit C, turn onto Temple Street at Man Ming Lane; or,MTR Jordan Station, Exit A. Turn right onto Jordan Road and then take another Right onto Temple Street.