Tai O Fishing Village
Tai O, Lantau Island, Outlying islands.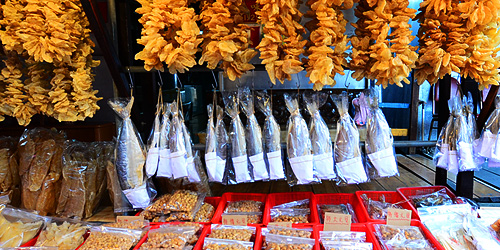 The pungent flavours and smells of Hong Kong's fishing heritage are still evident in the unusual delicacies produced in Tai O Fishing village on Lantau Island. Homemade shrimp sauce, shrimp paste, salted fish and dried seafood can be found in the shops adjacent to the Rope-drawn Ferry Bridge on Tai O Market Street. Some local tour operators can arrange visits to shrimp paste factories and salted fish plants.
Tai O Stilt Houses
Tai O is home to the Tanka people, a community of fisher folk who've built their houses on stilts above the tidal flats of Lantau Island for generations. These unusual structures are interconnected, forming a tightly knit community that literally lives on the water. Their enchanting world is a photographer's paradise.
The manually operated drawbridge that spans the narrow creek dividing the town replaced a rope-drawn 'ferry' that operated for over 85 years.
Source: discoverhongkong.com
Also known as the "Venice of Hong Kong", Tai O Fishing village  is a hot tourist spot for both foreigners and residents of other parts of Hong Kong, despite damage by a fire in July 2000. The pang uks, a kind of stilt house, built right over the waterway are still quite scenic. A rope bridge tended by local women used to be quite popular with visitors, but it has been replaced with a steel pedestrian bridge in October 1996.
For a small fee, some residents will take tourists out on their boats along the river and for short jaunts into the sea. Many tourists come to Tai O Fishing Village specifically to take these trips to see Chinese white dolphins. It is also a good place to see the sunset.
Source : wikipedia
https://www.youtube.com/watch?v=ePXmz9vyOIM
Reviews
Getting There
MTR Tung Chung Station, Exit B and go to the bus terminus. From the bus terminus next to the MTR station, take bus 11 to Tai O bus terminus (the journey takes approximately 50 minutes) and walk for around five minutes to the Rope-drawn Ferry Bridge. Walk another five minutes after crossing the bridge. The market is located on both sides of the bridge.
MTR Tung Chung Station Exit B. Take Ngong Ping cable car to Ngong Ping Village (approx 25 minutes). Take bus 21 to Tai O bus terminus (approx 20 minutes) and walk for around five minutes to the Rope-drawn Ferry Bridge. Walk another five minutes after crossing the bridge. The market is located on both sides of the bridge.
Source: discoverhongkong.com