Man Mo Temple
124 Hollywood Rd, Sheung Wan, Hong Kong
Phone : +852 2540 0350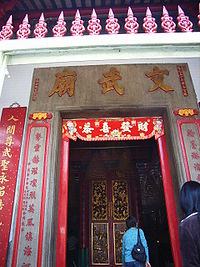 Man Mo Temple or Man Mo Miu is a Cantonese transliteration of Wen Wu Temple , a temple for the worship of the civil or literature god Man Tai  / Man Cheong and the martial god Mo Tai  / Kwan Tai ). The two gods were popularly patronized by scholars and students seeking progress in their study or ranking in the civil examinations in the Ming and Qing dynasties. There are several Man Mo Temples in Hong Kong, the best known of which is the temple in Sheung Wan.
The largest Man Mo Temple in Hong Kong is located at Nos. 124-126 Hollywood Road, in Sheung Wan. It was built in 1847. It is part of a complex that comprises three adjacent blocks namely Man Mo Temple, Lit Shing Temple (No. 128 Hollywood Road) and Kung So. The Temple, the main building of the complex, is dedicated to the civil god Man Cheong and the martial god Kwan Tai. Lit Shing Kung  is for the worship of all heavenly gods. Kung So , to its west, was an assembly hall where community affairs and disputes were settled. In 1908, the Temple was officially entrusted to Tung Wah Board of Directors.  It was graded as a Grade I historic building in 1993 and it is now a declared monument.
Source : Wikipedia
The Man Mo Temple is a picturesque tribute to the God of Literature (Man) and the God of War (Mo), both of whom were worshiped by ambitious students looking to succeed in the civil examinations of Imperial China. These involved rigorous systems aimed at finding the best administrative officials for the state.
Built in 1847, this remains the largest Man Mo temple in Hong Kong. To pause for a moment's respite under its giant hanging incense coils makes for a pleasant contrast with the hectic pace of the nearby financial district.
The Temple is part of a complex that also includes the areas Lit Shing Kung and Kung Sor. Lit Shing Kung was created for the worship of all heavenly gods, while Kung Sor, built to the temple's west, was an important assembly hall where community affairs and disputes were often discussed and settled.
Source : discoverhongkong.com
https://www.youtube.com/watch?v=YGcuoRy32ys
Reviews
Visiting hours  : 08.00AM to 06.00PM  all days of the week
Getting there   :
Bus 26 outside Pacific Place at Admiralty to Hollywood Road and get off near Man Mo Temple.
MTR Central Station Exit D2 and turn right to Theatre Lane. Walk along Queen's Road Central towards The Center. Then take the Central—Mid-Levels Escalator to Hollywood Road.
MTR Sheung Wan Station Exit A2 then walk along Hillier Street to Queen's Road Central. Then proceed up Ladder Street (next to Lok Ku Road) to Hollywood Road to the Man Mo Temple.