Ladies Market
Tung Choi Street, Mong Kok, Kowloon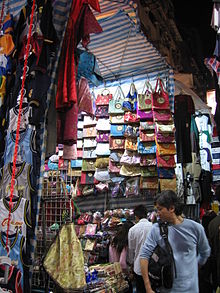 Tung Choi Street (Ladies Market) is a street situated between south of Sai Yeung Choi Street and Fa yeun Street in Mong Kok, Kowloon, Hong Kong. It is one of the most well-known street markets in Hong Kong. Its southern section, popularly known as Ladies' Market or Ladies' Street,  sells various, low-priced products for women and also other general merchandise. Its northern section not far above Bute Street, has a wide variety of affordable plants, pet supplies and animals especially goldfish since it is also known as "Goldfish Street".
Source : Wikipedia
Browse through the whole market first and you'll have a snapshot of the latest ideas for garments, colours, accessories and gifts. Although some things are classics which will always be there, such as traditional Chinese dresses for children, and souvenir T-shirts for tourists, there are others which are up to the minute trends. As these change so often don't miss a chance to accessories now on your visit as by the next time you are here they may be an old trend and be nowhere to be found!
The Ladies Market is a giant "style board" that is always turning over to the latest ideas and is the fastest way to get the ideas of trends, particularly those from Japan, Korea and China which drive fashion in the region.
Source : ladies-market.hk
At Ladies market and Fa Yuen Street Market which sells a great variety of inexpensive fashions, all sorts of accessories like handbags, watches, belts, wallets, cosmetic items. Different types of Chinese Souvenirs, from apparels, carvings, Buddha statues, silk embroideries, paintings, fans, magnets  and all kinds of knick knacks. Variety of food items are available at the food stalls and covered canteens which are very inexpensive. Fresh fruits, dry fruits and  all local specialties are also available here.
https://www.youtube.com/watch?v=OSgZr_G1BH0
Reviews
Getting there :  MTR Mong Kok Station, Exit E2. Walk along Nelson Street for two blocks; or,
take bus 1, 1A, 2, 6 or 9 from Tsim Sha Tsui Star Ferry Pier and get off at Nelson Street,
Source: discoverhongkong.com