Hong Kong Tramways (Ding Dong)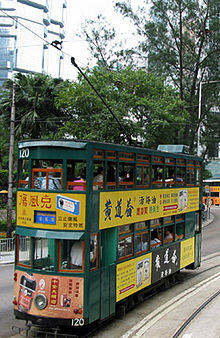 Hong Kong Tramways (Ding Dong)  is a tram system in Hong Kong and one of the earliest forms of public transport in the metropolis.
Trams in Hong Kong have not only been a form of commuter transport for over 110 years, but also a major tourist attraction and one of the most environmentally friendly ways of travelling in Hong Kong. The tram system is the only one in the world operated exclusively with double-decker trams, and is one of only three non-heritage tram systems in the world that use double-deck cars.
On average, the headway  between each tram departure is approximately 1.5 minutes during peak hours. In the past, trams had a maximum speed of 40 km/h. However, since early 2008, the maximum speed of some trams was increased, with a maximum speed of 50 km/h now enabled on most trams – a few of them even have a maximum speed of 60 km/h. The maximum capacity of each tramcar is 115 people.
The Hong Kong Tramways is the cheapest mode of public transport on the island. The comparatively affordable fare is highlighted by Hong Kong Tramways' advertising slogan: "Hop on 1. $2.3. Tram so easy!"
The current fare is HK$2.30 for adults, HK$1.20 for children under 12, and HK$1.10 for senior citizens 65 and above. Unlike most other forms of public transport in Hong Kong, fare charged is uniform regardless of the distance travelled. Passengers pay upon alighting by either depositing the exact fare in coins into the farebox, or by tapping the Octopus card on the processor. The turnstile at the tram entrance and closed circuit television prevent fare evasion by passengers.
Ordinary and antique trams are available for private hire. The open-balcony antique trams are often used for parties and promotional events. Tourists can also travel on the open-top trams through tours organised by the Hong Kong Tourism Board.
Source : Wikipedia
https://www.youtube.com/watch?v=nGXdtWqz3tA
Reviews