Hong Kong Park
19 Cotton Tree Dr, Hong Kong
Phone : +852 2521 5041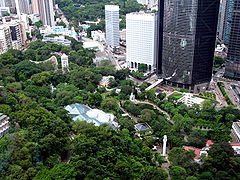 The Hong Kong Park is a public park next to Cotton Tree Drive in Central Hong Kong . Built at a cost of HK $ 398 million and opened in May 1991, it covers an area of 80,000 m2 and is an example of modern design and facilities blending with natural landscape.
Hong Kong Park captures the natural landscape in the busy and crowd business centre and provides a relaxing environment. Its main feature is Edward Youde Aviary  which is the Hong Kong's largest aviary while the Vantage Point is another great place to see the "bird exhibition". Moreover, inside the Hong Kong Park, there is a greenhouse  (Forsgate Conservatory) which holds "plant exhibition" such as "Orchid Exhibition" temporarily. There are also many modern gardens, including Garden Plaza and Tai Chi Garden. In order to suit the sport-lovers, a sport centre and a squash centre were also built in Hong Kong Park.
Source : wikipedia
The Edward Youde Aviary  is a 3,000-square-metre (32,000 sq ft) aviary built over a natural valley at the southern corner of Hong Kong  Park. The Edward Youde Aviary was opened to the public in September 1992. The aviary, largest in Southeast Asia, is named after the late Sir Edward Youde, The Governor of Hong Kong from 1982 to 1986.
The valley is bounded by an east-facing slope fully covered with natural vegetation and a west-facing slope previously occupied by a barracks. It has a highest point of 46.5 metres (153 ft) and a lowest point of 30 metres (98 ft) above the valley floor.
This walk-though aviary features a collection of 600 birds representing 80 species indigenous to Southeast asia, Indonesia, and New Guinea. Ground dwelling birds including pheasants, partridges, pigeons and thrushes. Great argus pheasants proclaim their presence by ringing territorial calls and give one of the most elaborate courtship displays in the bird world.
The entrance to the aviary consists of a small rectangular building. This building holds on display different types of eggs.
Source : Wikipedia
https://www.youtube.com/watch?v=-0scVfzveGQ
Reviews
Opening hours : 06.00AM to 11.00PM
Entry: Free
Getting there:  MTR Admiralty Station, Exit C1. Follow the signs up the escalator to Hong Kong Park.
..