Hong Kong Museum of History
Science Museum Rd, Tsim Sha Tsui East, Hong Kong
Phone : +852 2724 9042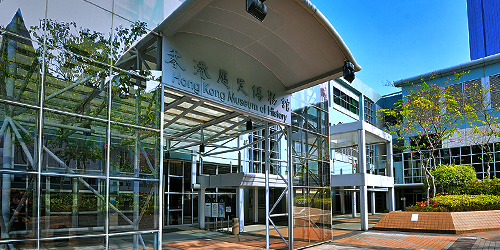 The Hong Kong  Museum  History has proved it's possible to squeeze 400 million years of history into one 7,000 square metre space. A list-topper for history buffs, the museum has made enormous efforts in studying, collecting, processing and exhibiting countless objects which are related to the archaeology, history, ethnography and natural histories of Hong Kong and South China. Thematic exhibitions are also regularly held at different times.
Source: discoverhongkong.com
The Museum's collections are divided into three major areas of interest : natural history, ethnography and local history.
Natural History
The Museum's natural history collection is classified into categories of rocks and minerals, shells, as well as animal specimens. All help to illustrate the history and development of geology of Hong Kong. The Museum has collected about 2,800 rock and mineral specimens from the territory and over 750 specimens of shells from local beaches. The Museum has also acquired over 1,600 animal specimens, including mammals, birds and butterflies.
Local History
The Museum has built up a collection of over 70,000 items on local history, which illustrates the development of Hong Kong from its early days. Various facets of life in Hong Kong are depicted in the extensive archives of over 14,000 historical photographs and postcards dating from the 1860s. The majority of the photographs show the streets and everyday life of Hong Kong before the Japanese occupation. Furthermore, the Museum has acquired over 19,000 historical documents and books, including accounts, certificates, business and government letters, textbooks and other items, all of which shed light on the social, economic and educational development of Hong Kong.
The Museum has a comprehensive collection of Hong Kong stamps, reaching around 4,000 items. These philatelic items illustrate the development of local postal history. The Museum also possesses a currency collection of around 5,500 items. It comprises not only local banknotes and coins, but also those of Macau and Guangdong, giving a more rounded picture of the Hong Kong economy over the years. Other items of local historical interest include industrial products, furniture and commercial items, Dr Sun Yat-sen's and his family's collection, the items collected from various government departments prior to the 1997 Handover and those relating to the Handover Ceremony, etc.
Ethnography
The Hong Kong Museum has built up a sizable collection of materials on the local ethnic cultures. It includes farming implements, rural household wares and furniture, fishing gears and junk models, all of which illustrate the traditional life of local villagers and boat-dwellers, as well as their farming and fishing industries in Hong Kong. Besides, a unique collection of traditional local costumes has also been built up, which includes over 5,500 items of rural and urban clothing and accessories worn by people of different ethnic origins, age and social classes from the 19th century to the 1970s. From this magnificent collection, one can learn the life styles of different ethnic groups, such as their living environment, historical development, moral values, customs and beliefs. These historical objects provide a comprehensive source for studying Hong Kong people's social life and history.
Over the years, the Museum has also been collecting historical objects reflecting the disappearing Chinese traditional art forms and occupations. There are more than 850 puppet accessories and musical instruments, as well as over 1,500 items related to wedding customs, religious practices and traditional trades. These artifacts provide valuable information for us to understand the development of traditional entertainment, customs and beliefs, as well as the early trades of Hong Kong.
Source : hk.history.museum/en
https://www.youtube.com/watch?v=axJHaodGwog
Reviews
Visiting hours and tickets :
Getting there :
MTR Tsim Sha Tsui Station Exit B2. Walk along Cameron Road towards Tsim Sha Tsui East for approximately 20 minutes.
MTR Jordan Station Exit D. Walk along Austin Road towards Tsim Sha Tsui East for approximately 20 minutes.
MTR East Tsim Sha Tsui Station Exit P2. Walk along the Chatham Road South for 10 minutes.
Source: www.discoverhongkong.com