Golden Bauhinia Square 
1 Expo Drive, Wan Chai, Hong Kong Island
Phone : +852 2582 8888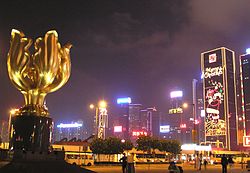 The Golden Bauhinia Square  is an open area in Wan Chai , Hong Kong . The square was named after the giant statue of a golden Bauhinia blakeana  at the centre of the area, situated outside the Hong Kong Convention and Exhibition Centre , where the ceremonies for the handover of Hong Kong and the establishment of the Hong Kong Special Administrative Region  were held in July 1997. A flag-raising ceremony is held every day at 8:00 am. It is considered a tourist attraction.
The sculpture, a gilded flower bauhinia, is six metres high. The major part is composed of a bauhinia on a base of red granite pillar on a pyramid.
The sculpture is deemed an important symbol for the Hong Kong people after the handover. On the second day of Chinese New Year  and National Day of the People's Republic of China , the square is lighted up by a firework show. The Golden Bauhinia has also been nicknamed the "Golden Pak Choi" by locals.
Source : Wikipedia
https://www.youtube.com/watch?v=vOiPGE9ZcKk
Reviews
https://www.tripadvisor.in/Attraction_Review-g294217-d1916366-Reviews-Golden_Bauhinia_Square-Hong_Kong.html
Daily Flag –raising ceremony : Every day except the first of each month
7.20 to 8.30am
This ceremony is performed by Hong Kong Police officers in ceremonial uniform and includes the playing of the national anthem. The Ceremony will be conducted by different uniformed youth groups on the second Sunday of each month.
Enhanced Flag – raising ceremony : On the first day of every month
7.45-8.13 am
This ceremony includes a flag-raising party of Hong Kong police officers accompanied by a rifle unit, both wearing full uniform. The ceremony will include the playing of national anthem by the Police Band followed by a 10 minute musical performance by the Police Pipe Band.
Please be aware that the flag-raising ceremony may be cancelled at any time due to bad weather conditions. In the case of a cancellation, an announcement will be made through local media channels between 7am and 8am.
Getting there : MTR Wan Chai Station Exit A5, walk along the footbridge of O'Brien Road, pass through Immigration Tower and Central Plaza to Hong Kong Convention and Exhibition Centre.
Source: discoverhongkong.com