Disney Land
Lantau Island, Hong Kong
Phone :  +852 3550 3388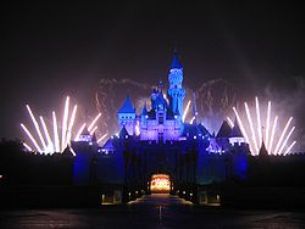 Hong Kong Disneyland  is located in Penny's Bay, Lantau Island. It is the first Theme park located inside the Hong Kong Disney Land Resort and is owned and managed by the Hong Kong International Theme Parks. It is, together with Ocean Park Hong Kong, one of the two large theme parks in Hong Kong. Disney attempted to avoid problems of cultural backlash by incorporating Chinese culture, customs, and traditions when designing and building the resort, including adherence to the rules of feng shui.
The theme park's cast members speak Cantonese, English, and Mandarin. Guide maps are printed in traditional and simplified Chinese as well as English, Japanese, Thai, Malay and Indonesian.
The park has a daily capacity of 34,000 visitors — the fewest of all Disneyland parks. To AECOM and TEA, Hong Kong Disneyland is the 13th most visited theme park in the world in 2013, with 7.4 million visitors.
The park is divided into "lands" (themed areas) and well-concealed backstage areas. On entering a land, a guest is completely immersed in a themed environment and is unable to see or hear any other realm. The idea behind this was to develop theatrical "stages" with seamless passages from one land to the next.
Main Street,U.S.A, designed to resemble an early 20th-century Midwest town;
Adventureland, featuring jungle-themed adventures;
Fantasyland, bringing to life characters and places from Disney's movies for children;
Tomorrowland, an optimistic vision of the future.
Toy Story Land, based on the Disney– Pixar film series Toy story.
Grizzly Gulch, reminiscing an abandoned mining town set amidst mountains and woods.
Mystic Point, heart of a dense, uncharted rain forest where supernatural events take place.
Throughout the park are 'Hidden Mickeys', or representations of Mickey Mouse heads inserted subtly into the design of attractions and environmental decor.
An elevated berm supports the 3 ft (914 mm) narrow gauge Hong Kong Disneyland Railroad (built by Seven Lamb) that circumnavigates the park.
Disney land Layout
Source : Wikipedia
https://www.youtube.com/watch?v=gZ7B3yzNZQU
Main attractions of Disneyland
Reviews
Visiting hours : 10.AM to 08.45PM
Tickets : https://goo.gl/Sc3Ziq
Getting there : https://goo.gl/4D1k4Q