Causeway Bay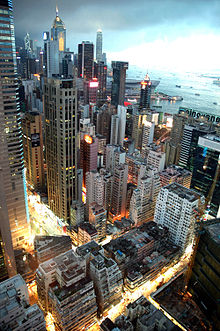 Causeway Bay or East Point is a heavily built-up area of Hong Kong, located on Hong Kong Island, and covering parts of Wan Chai District. The rent in the shopping areas here was ranked as the world's most expensive for the second year in a row, after overtaking New York's Fifth Avenue in 2012.
This is one of Hong Kong's major shopping districts. It includes the 13-storey Japanese department store Sogo, Times Square, an indoor shopping complex, and Hysan Place. There are also smaller malls such as World Trade Centre, Windsor House, Hang Lung Centre, Fashion Island, Fashion Walk, Lee Gardens and Lee Gardens Two. The area is one of the most crowded areas in Hong Kong since it contains many trendy shops carrying both locally made fashion and products from Japan, Europe and the United States. As such, it is a popular social spot for young people. Many shops are open until well after midnight.
For years, Jardine Matheson has fired a cannon shot at noon every day in this area, by Victoria Harbour, slightly eastward of the former Kellett Island. The gunshots have served as time signals for many generations of old inhabitants of Hong Kong. This tradition still continues today. This is the "Noonday Gun " mentioned in the Noel Coward song "Mad Dogs and Englishmen ".
Source : Wikipedia
https://www.youtube.com/watch?v=I7Ebsqm5KcE
https://www.youtube.com/watch?v=bNpdkZWmoLc
Reviews
Getting there : Causeway Bay is on the MTR subway on the Island line (blue). The Causeway Bay station is one of the biggest in the system, and has many exits leading to exits all over the area. Important exits, include exit A for the Times Square shopping mall and exits D3-D4 to the SOGO Department Store. The Island line tram also travels through this station, stopping in front of SOGO.