Avenue of Stars
Tsim Sha Tsui, Hong Kong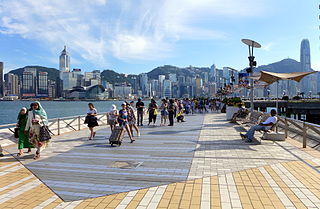 The Avenue of Stars , modelled on the Hollywood Walk of fame, is located along the Victoria Harbour waterfront in Tsim Sha Tsui, Hong Kong. It honours celebrities of the Hong Kong Film Industry.
The Avenue  Stars is the eastern node of several tourist attractions along the Tsim Shat Sui waterfront. In addition to the promenade and New World centre, a number of attractions exist including the Museum of art, Space Museum, Cultural centre and the Clock tower.
Entering from Salisbury Garden, a 4.5-metre-tall replica of the statuette given to winners at the Hong Kong film awards greets visitors. Along the 440-metre promenade, the story of Hong Kong's one hundred years of cinematic history is told through inscriptions printed on nine red pillars. Set into the promenade are plaques honouring the celebrities. Some plaques contain hand prints and autographs of the stars set in cement, but most of the plaques only contain celebrities' names as they are now deceased. A 2.5-metre bronze statue of Bruce Lee was erected along the Avenue of Stars in 2005.
The promenade commands a stunning panoramic view across Victoria Harbour. At night it is a popular viewing place for the Symphony of Lights display.
A large replica of the 2008 summer Olympics torch will be on permanent display here.
Source : wikipedia
Avenue  Stars is closed for repair and improvement works, which are expected to be completed around the end of 2018. A selection of the Avenue of Stars exhibits is currently on display at Garden of Stars and Starry Gallery.