A-Ma Temple.
St. Lawrence's Parish, Macau
Phone : +853 2836 6866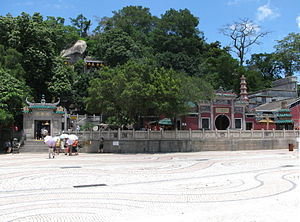 This is a World Heritage Site
A-Ma Temple , situated on the southwest tip of the Macau Peninsula, is one of the oldest and most famous Taoist temples in Macau. Built in 1488, the temple is dedicated to Matsu, the goddess of seafarers and fishermen.
The name Macau is thought to be derived from the name of the temple. It is said that when the Portuguese sailors landed at the coast just outside the temple and asked the name of the place, the natives replied  "A-Ma-Gau" (bay of goddess A-Ma). The Portuguese then named the peninsula "Macao". The temple was well described in ancient Chinese texts, as well as represented in paintings, related to Macao. It is also one of the first scenes photographed in Macao.
Temple consists of six main parts: Gate Pavilion, the Memorial Arch, the Prayer Hall, the Hall of Benevolence (the oldest part of the temple), the Hall of Guanyin, Zhengjiao Chanlin – Buddhist Pavilion.
In 2005, the temple became one of the designated sites of the Historic Centre of Macau enlisted on UNESCO World Heritage List.
Source : Wikipedia
The A-Ma Temple is a destination offering silence and spectacular views. It contains six main parts, all of which make up a series of classical Chinese architectural treasures, and this is all guarded by stone lions. Entering it and going across a gateway, you will reach the Hongren Hall by a winding path. A statue of Mazu is worshipped here, and it is believed that the hall has the longest history in the complex. Going ahead, the Hall of Avalokitesvara will present itself to visitors. It was constructed mainly using bricks and stone in a simple style. Compared with the other halls, the Zhengjiao Chanlin (a Buddhist hall) was designed tastefully both in regards to size and architectural style.
Containing not only an ancient architectural complex, the temple also possesses a measure of the rich and profound Chinese culture. It is worth your while to stay and enjoy the various poems and inscriptions carved on the stone along the cliff. Furthermore, each year, on the days of the birthday of Mazu and the Chinese New Year, many male and female disciples gather here. They burn lots of incense to pay homage and pray for good fortune.
Source : travelchinaguide.com
https://www.youtube.com/watch?v=640KyJW_AhE
Reviews
Opening hours : 07.00Am to 06.00PM
Getting there : Bus 6,8,9,28B